October 1, 2009
Filed under: PD Martin website,The Killing Hands — Tags: book trailer, The Killing Hands — PD Martin @ 5:40 am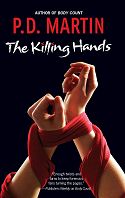 Another week? Gone already? Yet again, no writing or editing this week, but I've managed to get some book-related work done.
After some umming and ahhing, I've finally chosen the video producer for my book trailer. He's Aussie-based and has done some recent work for Pan Macmillan Australia, my Aussie publisher. You can see a few of his book trailers at: www.youtube.com/user/PanMacmillanAus
I'll be working on two book trailers with him, the first will be for the North American release of The Killing Hands (November 1). It will give readers and potential readers a quick snapshot into the book. I'll let you know when it's ready!
Next up will be another 30-second trailer for the Aussie release of book 5 in the Sophie Anderson series, Kiss of Death (release date is 1 January 2010). Again, I'll post it on my website once it's ready.
I'm still finding the book trailer 'thing' very interesting – obviously it's a marketing tool but will it have the desired effect and bring new readers to Sophie? Only time will tell

And yes, that is a sneak peak of the North American cover for The Killing Hands on the left!
Comments Off
No Comments
No comments yet.
Subscribe to comments feed for this post.
Sorry, the comment form is closed at this time.