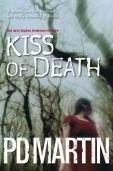 My crime fiction books are currently available in Australia, New Zealand, the US, Canada, Argentina, the UK, Ireland, France, Spain, Germany, Finland, Norway and Sweden. In some cases you can buy directly from the publisher – please see the Buy page for more information. You can also view all the different covers from around the world. You can read more about each book, including the synopsis, reviews and excerpts by using the menu system on the left.
Cover on the left is the Australian version of book 5, Kiss of Death.
I have also released a new series (fantasy) under Pippa Dee.
Sophie Anderson series
Body Count kicks off the series a few months after Aussie Sophie Anderson has re-located to the US and the FBI's Behavioral Analysis Unit.
In The Murderers' Club, the clues don't stack up – until a man emerges from the desert with a story of unspeakable evil.
Fan Mail sees Sophie working a case where fiction has become fatal. A popular crime writer is murdered and posed just like the crime scene in the dead author's last book.
In The Killing Hands Sophie investigates a case that's like nothing she's ever seen before, as it takes her into the world of gangland hits and organised crime.
Kiss of Death sees Sophie investigating a possible cult real-life vampires in LA. Think Criminal Minds meets True Blood!
Coming Home is the sixth book in the Sophie series – finally Sophie comes home to solve her brother's 30-year-old  murder. Coming Home was written as an interactive ebook and can now be bought from Amazon.
True crime
I've also contributed two pieces to a true crime anthology called Meaner than Fiction.
Meaner than Fiction is available in Australia and New Zealand only.