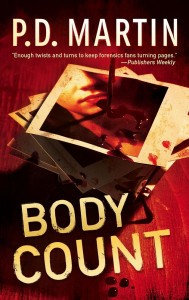 "…solid, well-researched debut…the intense first-person narration has enough twists and turns to keep forensics fans turning the pages." Publishers Weekly
"…A taut and terrific debut novel…Martin is a real find. Can't wait for her next." Australian Women's Weekly
Cover on the left is the North American edition.
Australia & New Zealand: Available now
France: Available now
Germany: Available now
North America: Available now
UK & Ireland: Available now
Body Count provides an insight into the life of a unique FBI profiler, Sophie Anderson.
When a girl is found brutally murdered in DC, Australian FBI profiler Sophie Anderson suspects that the killing spree has just begun. With her fellow agents she delves into the mind of the killer, trying to predict his next move.
When another victim turns up, Sophie knows that she's 'seen' the girl before, raped and murdered – in her dreams. Struggling to separate fact from fiction, reality from nightmare, Sophie becomes more and more ensnared in the killer's mind as the body count rises.
Then the murders become personal and Sophie is caught up in a cat-and-mouse game that may cost her the man she loves – and her life.
History of Body Count
Body Count has got quite an eerie and interesting beginning.
The idea is based on a particularly nasty nightmare I had about eight years ago. In the dream a serial killer murdered my friends one by one and I was investigating the crimes. During the dream I woke up immediately after each body was discovered, but then when I went back to sleep the dream continued exactly where I'd left off. Between 2am and 6am I woke up four times in total. And when I woke up the last time I was cornered by the killer – his hands around my neck. Later that day I made a tragic discovery…one of my friends had died and the estimated time of death was between 2am and 6am, the exact time of the nightmare. Was it intuition? Years later, I decided it would make the basis for a great book.