July 18, 2019
Filed under: Doctorate,PhD — Tags: doctorate creative writing, PhD — PD Martin @ 12:00 pm
That's a wrap!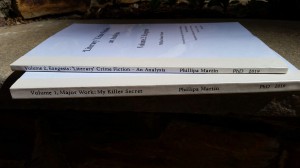 Finally, after 4.5 years I've finished my PhD. It has taken a little longer than I was hoping but I got there. The official recommended 'structure' at the University of Adelaide is:
First year: Research proposal
Second year: First draft of novel
Third year: Exegesis
After the end of the third year, hopefully you're ready to submit your PhD (thesis) for examination by two examiners. Then you also need to allow time for rewrites, and PhDs are either given pass as-is (very rare), pass with minor changes, pass with major changes, or 'fail'. I submitted my PhD in March and had some minor rewrites to do, but these were hard to schedule around my work commitments. But I submitted the final final copy on Monday this week and officially academically qualified for my PhD yesterday. Exciting times. I'll blog a bit more about my actual thesis (novel and exegesis) next time…
This is me just about the submit…and the glass of champagne I had soon after!
Comments Off