December 8, 2011
Filed under: Murderati blogs — PD Martin @ 11:43 pm
Yesterday was my daugther's 5th birthday. We have a tradition in our family of celebrating birthdays for many days…and her 5th is no exception. So we started off on Sunday with my family coming over to celebrate. Then on the actual day (yesterday) she had 'Cake in the Park' with her pre-school friends. And on Sunday she's having a fairy birthday party. Anyway, I decided to use yesterday as the practice run for my Fairy Princess Cake. I spent quite a bit of time researching this – recipes, cake tins (Dolly Varten) and decorating options.
I will post the recipe below, but first I wanted to show you the many stages of the cake decorating that went on early yesterday morning!
Stage 1: Banana cake baked and cooled (night before)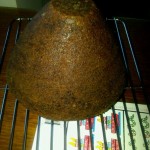 Stage 2:  Stick fairy Barbie into the cake (and also line the plate). Note: I'm afraid some of Barbie's legs had to go. I know…cruelty to dolls is NOT a good sign! But it was off at the knees for this Fairy Barbie.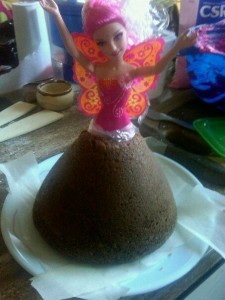 Stage 3: Pink cream cheese icing.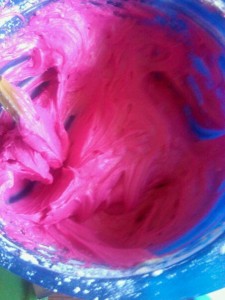 Stage 4: Fairy Barbie's dress is iced!
Stage 5: Decorations (flowers)
Stage 6: Take a step back and bask in the glory. Especially when your husband laughed – loudly – when you first told him of the task at hand and showed him photos you were aiming to replicate!
So, the recipe:
4 oz butter
1 cup sugar
1 egg
1 tsp baking soda
3 tbsp milk
2 mashed bananas
1 ½ cups flour
1 ½ tsp baking powder
Cream the butter and sugar.  Add egg and beat well.  Dissolve soda in warm milk and mix in. Add mashed bananas.  Lastly, fold in the flour and baking powder.  Bake (45 mins) in a moderate oven (180C).
I doubled the recipe and cooking time for the Dolly Varten tin.
This video was extremely helpful:

Comments Off
No Comments
No comments yet.
Subscribe to comments feed for this post.
Sorry, the comment form is closed at this time.