June 12, 2009
Filed under: Research — PD Martin @ 4:46 am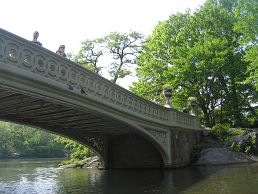 Okay, I'm officially blogging. That's right, I've joined the ranks of the switched on, technically savvy communicators who blog. Of course, I don't really have a clue what I'm doing, but here goes…
I've achieved some milestones since I launched this website (and last blogged) on 4 May. Like:
My family and I have had a lovely three-week holiday in the US
I've had another birthday (number to remain undisclosed – a girl's gotta have some secrets, right?)
I've finished the first draft of KISS OF DEATH
We've been cleared of swine flu
I've appeared on a panel at the Emerging Writers' Festival in Melbourne
And I've almost rid the house of the lovely family of mice that decided to house-sit for us while we were away
Wow…I have been busy. 
I'll talk about the panel at EWF next week, but for now more on the trip. The pic on the left was taken in Central Park.
First stop, New York, New York…so good they named it twice. Spent five days there, mostly just hanging out, but I also managed to catch up with my agent and my new US editor and had a fantastic chat over lunch. Yum!
Then it was down to some good friends in North Carolina (near Raleigh). From there, we also went to Myrtle Beach and Washington DC. My daughter loved the lazy river in the Myrtle Beach hotel (we actually all had fun in that, but it sounds much better if we were just in it for the 2yro) and I got to the Spy Museum in DC, which was really cool.
Then it was up to Wakefield, Rhode Island to visit my best friend (who's married to an American). It was so great to see her – best friends rock! We've known each other since I was four and she was five.
Then back to NY for a couple of days and then home. We had a ball…as did the mice who house-sat for us.
Comments Off
No Comments
No comments yet.
Subscribe to comments feed for this post.
Sorry, the comment form is closed at this time.