News
Read the latest news - direct from the desk of PD Martin.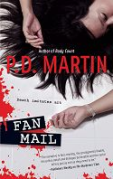 Jul 1
Fan Mail is now officially out in the US and Canada. Hooray!
It got great reviews here in Australia – below is more information on the book and excerpts from the reviews.
In Fan Mail, Sophie is working a case where fiction has become fatal. A popular crime writer is murdered and posed just like the crime scene in the dead author's last book.  Full synopsis
Fan Mail also answers some of those lingering questions from The Murderers' Club, so all will be revealed!
Praise for Fan Mail:
"gripping read…" Herald Sun
"best book in the series so far…" The Age
"gripping and realistic thriller." Good Reading
"…twisted, intriguing and brilliant plot." Sunday Territorian
"Martin ratchets up the fear and the tension expertly." Courier Mail
"another winner…" New Weekly