October 14, 2011
Filed under: Events/appearances,Murderati blogs — Tags: Alison Goodman, Angela Savage, Katherine Howell, Kathryn Fox, LA Larkin, Leigh Redhead, Lindy Cameron, Malla Nunn, Margie Orford, Marianne Delacourt, Narelle Harris, PD Martin, Shamini Flint, SheKilda, Tara Moss, Vanda Symon — PD Martin @ 12:14 am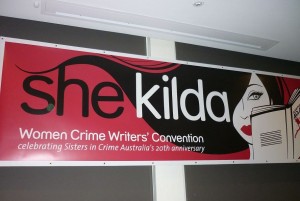 On the weekend I attended the ten-yearly (yup, not annual, not bi-annual but once a decade) SheKilda. It was actually the second ever SheKilda, to mark Sisters in Crime Australia's 20th anniversary and the 10th anniversary of the first SheKilda. Happily, they are talking about maybe having another one in five years! I'm going to push for two years.
Anyway, having attended Bouchercon once, I was hoping that SheKilda would follow a similar format and, of course, be as wonderful and successful as the US convention. And I was NOT disappointed. It was an amazing weekend. A time for authors and readers to talk, exchange ideas and in the case of the authors complain that our partners don't understand what we do and how tough it is.
One of the key differences between SheKilda and Bouchercon is that SheKilda was conceived and produced by Sisters in Crime and so all the authors were women. In terms of the audience, I'd say it was probably about 95% women too, but then again most crime readers are female.
The main difference between SheKilda and most of the other writing events I've attended (except Bouchercon) is that it was set up as a convention rather than a writers festival. The sessions and activities were centred almost entirely around the hotel venue (Rydges in Carlton, Melbourne). To my knowledge, this makes SheKilda the only one of its kind in Australia. They even served morning tea, lunch and afternoon tea in a common area near the venues, so we didn't have to stray too far from the action or pound the pavement in the search of lunch.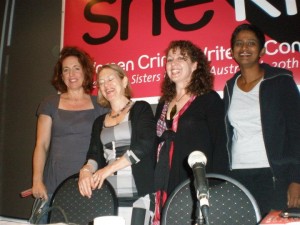 The weekend kicked off with the Friday night gala opening. It was a chance for all the authors and attendees to mingle (with free champagne, red wine, white wine and beer – oh, and soft drinks too). There was also some extra yummy finger food! Then it was into one of the rooms for the official opening. MCed masterfully by Sue Turnbull (she's an amazing interviewer and MC), it kicked off with a traditional welcome from Joy Murphy Wandin, who's an elder of the Wurundjeri indigenous people. Then it was on to the entertaining (funny) City of Melbourne Councillor Ken Ong, then Mary Delahunty of Writing Australia and then the keynote address from Margie Orford, one of the three international guests for the convention. She gave a stunning speech about the setting for her novels and hometown (Cape Town). Apparently the murder rate there is so high that forensics will only be called if they think the murder might make the TV news. There have even been cases of people travelling to Cape Town to specifically arrange murder – hoping their victim will simply go into the massive pile of unsolved murder cases on some homicide cop's desk. Margie's police contact will often have 200 files on his desk.
Saturday kicked off with a joint session with all the international guests, Margie Orford, Shamini Flint and Vanda Symon. It was a great opening to the day's events and was followed by Tara  Moss launching Scarlet Stiletto: The Second Cut, a collection of award-winning short stories by women crime writers.
For my other morning session, I attended Drawing the Line: Whatever!, which looked at how the line is drawn between a young adult novel and an adult novel. YA authors Marianne Delacourt, Karen Healey and Nansi Kunze were led by Alison Goodman. It seems violence was one key determiner, but sex was a more important one. For example, editorial notes removing the word "straddled" were discussed!
After lunch, I was on a panel with Narelle Harris, Marianne Delacourt, Alison Goodman and Kim Westwood, chaired by Tara Moss. The panel looked at bending the rules in terms of genre — mixing genres, moving genres, etc.
After my choc-chip cookie at afternoon tea it was time for my second panel of the day, Conquering the World: Heroes Abroad. This panel was chaired by Angela Savage and together with Lindy Cameron, Malla Nunn and LA Larkin we all explored setting our books overseas. Angela's are set in Thailand, Lindy's Redback is set in several locations, Malla's are set in South Africa in the 1950s and Louisa's first book is set in Zimbabwe and Australia and her second in Antarctica. And then of course mine are set in the US.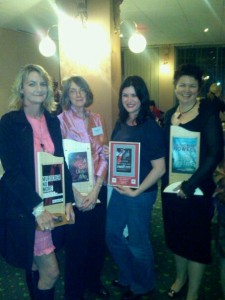 Saturday night was the Davitt Awards, which were created to support Aussie female crime writers – who often seemed to be overlooked in our other crime awards. The winners that night were (from left to right):
Best true crime: Colleen Egan
Best YA crime fiction: Penny Matthews
Best fiction honourable mention: Leigh Redhead
Best fiction: Katherine Howell (who was my guest here in July)
There was also a reader's choice award for fiction, which went to PM Newton (not in pic).
I kicked off Sunday morning with a panel called Brave New World: Or Death of the Book. As you can imagine, we spent the hour talking about ebooks in Australia and around the world. A recent stat for Australia is that the current $35million ebook market will increase to anything from $150 million to $700 million in the next three years. Big numbers!
After morning tea, I was an audience member for In the Face of Evil: Encounters with the Guilty, where true crime writers Rochelle Jackson, Robin Bowles and Ruth Wykes talked about their interviews and encounters with real-life crooks and murderers. And then I sat in on Them that Really Do it, which featured authors who used their past/present careers in their writing. Katherine Howell (ex-paramedic), YA Erskine (ex-cop), Helene Young (pilot), Kathryn Fox (ex-doctor) and PM Newton (ex-cop) were on the panel.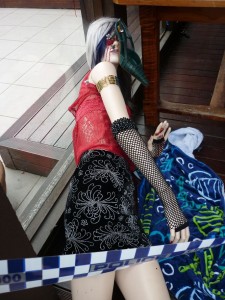 After lunch was Body in the Pool, which gave the SheKilda attendees an insight into how things would really happen if/when a dead body is found. The body had been on display by the pool all weekend and the experts included someone from police (actually our ex-assistant commissioner, Sandra Nicholson), a bug expert Mel Archer and a forensic pathologist. Timing (real versus that portrayed in crime fiction and crime TV) was also considered. At least 6-8 weeks for the entomology report and 10 weeks for the autopsy report.
It was an amazing, amazing weekend. A chance to talk to other authors, share stories (often complaining about how badly we're paid!!) and expose ourselves to some great authors who are new to us. I kept my hand in my pocket over the weekend, but only because I'm sure Santa is bringing me a kindle for Christmas so I'll wait and purchase the many fabulous books now on my 'to buy' list as ebooks!
What authors have you 'found' at a convention and then bought their books?
Comments (2)
2 Comments
Nice wrap, PD. I enjoyed our panel together, notwithstanding the tropical conditions in the room!

Comment by Angela Savage — October 14, 2011 @ 4:36 am

Yes, it was mighty hot! Thanks for leading the panel so expertly and for the running sheet – which I loved :)More comments on this post over at Murderati, http://www.murderati.com
Subscribe to comments feed for this post.
Sorry, the comment form is closed at this time.